It's been a hot minute since I've written anything. While I want to start writing regularly again, I just wanted to pop on here share something I feel the Lord put on my heart this morning. And it turned into 2 parts (you're reading the prologue that kinda turned into its own thing, aha), because, well. Of course. it's all or nothing when it comes to me ;)
Hopefully this format is easier. 
1. An Observation of MK weddings  //  YOU ARE HERE
2. An Encouragement for Newlyweds (MKs and otherwise)  
My husband and I recently came back from our friends' weddings in Michigan, and wow. You guys. This wedding 😍 Michael has been close to the bride and the groom for a decade as he lived in hostels with both of them at different times over the years. I've known them for about 5 years. They are very, very near and dear to our hearts. 
And I cannot express how beautiful this whole thing was. You ever had ridiculously high expectations for something and then when the thing finally happens, it's actually just so much better?!  Well, that was absolutely Michigan for us.
It was beautiful. Amazing. Agh. Please take us back.
No matter what kind of wedding it is, I'm kind of a nut for them anyways. I love love in general, so that's probably not a big surprise. The anticipation and the excitement of the big day is unlike any other, and I love that there is always something to do. I love crafting the little moments, being an extra pair of eyes, a babysitter, an impromptu designer, etc. I just love being able to help, and over the years, I've actually kinda got a knack for it ;)
 Ladies, if you are looking for any help with planning, need some registry advice or more decor made for your wedding, let me know in the comments below! Or FB message me :) It would literally make my day. 
Sad Fact: We were headed to OR right after MI to attend a second wedding, but because of extenuating circumstances, we had to make the hardest decision and stay home. It was actually the worst. We hated that we had to miss it, especially because it was so close to us, but now we just have an excuse to party it up extra when we see them again soon ;) All our love to you & welcome to the club <3
So, in case I never told you this: both of these weddings were with couples who lived in the same missionary compound as my husband and I in Papua New Guinea.
- M + L,  the cuties from Oregon, started dating just a few months after Michael and I, making them the second Class-of-2014 couple (after us, of course ;)) to get married. This is pretty cool, considering our class had like, 21 people in it.
- J + I,  the Michigan love birds, were a grade below us in high school. Fun fact: In 2014, Michael organized a band for talent night, complete with a trombone, a drum set, a suuuuper cute lead singer (Michael Apa, duh), and two fine dancers: J + I. *daaaww* 
But enough with the details. 
(You see now why I decided to make two posts instead of one? Aha. I have a problem. ;) )
...
But listen. If you ever have the opportunity to go to a missionary kid wedding . . .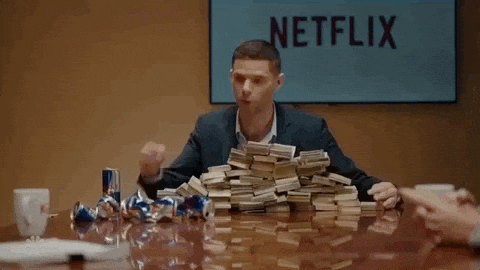 (OMG this gif. I wish, lol.)
((ppsst, money man, see above "extenuating circumstances" and throw some at that one, plz thx))
YOU GOTTA GO!
It's an altogether different kind of wedding, and it is filled up with its own beautiful culture that unlike anything else in the world. 
Even if you're not a missionary kid or national (a person who's native to the MK's host country), no worries! We know what it's like to feel out of place, and to us, as long as you're not a serial killer or extra super entitled, you'll feel right at home in .25 seconds, tops.
In MK weddings, reunions just kind of happen, and they're almost just as important as the wedding itself. They typically last all day everyday we're around each other. (The introvert in me died a little, for sure, but it was absolutely worth it). We're like that because, around 60% of those in attendance and at least 70% of the wedding party haven't seen each other in years. While this may be true of other weddings, these are the people we feel the most at home with because of what we experienced together overseas. We aren't like most people in our home countries, so this kind of belonging is extra rare. 
So seeing them again? Absolutely the best day ever.
There is a unique and complex nature within MKs and TCKs (missionary kids and third culture kids) that, even though it's beautiful, comes with a price. Oftentimes, especially if we enjoyed our time on the mission's field, it is extremely difficult to find people within our passport countries that can "get" us like our overseas friends did. Friendship functions differently here, in America, at least, and so does work. In our childhood, community was the priority, but now, the priority is busyness, or at the very least, the appearance of being busy. 
So it's not uncommon for us to loose sight of the person we were-- a person capable of having the deepest, most pure friendships with people from all over the globe.
So, it's no surprise then that J + I 's wedding was an event that's highly anticipated from the get-go.
And by the time it was over, and we were all saying goodbye (again), I felt a new connection with these people, specifically when it came to Michael's friends, (officially dubbed, "the boys"). Other than watching our dear friends  become husband and wife, my favorite part of Michigan didn't even involve me: 
I knew that the love of my life was spending time with his boys.
That was it. Nothing else mattered. 
This time he had with them was too limited, but to see them all together literally had me in tears one night.  
When they were in PNG, these boys grew up together and, through unthinkable circumstances, they became closer than brothers. They learned together. Became men together. And now, they come from all corners of the world, to stand by each other again, as another one of them gets married. 
And there are not the right words to say of just how thankful I am for them.
So much of who my husband is because of his boys. 
(...okay, I gotta stop before I start crying again, lol) 
It hurt to say goodbye ~ I felt like a big sister watching her brothers make the journey back out into the world. And it hurt because I know it's hard out there. Without all these people. It's hard and I know that.
And all I wanted to do in that moment was protect them from it. 
(And if you're one of the boys, just know that we love you, and that we'll do anything to make sure you know that. We got you, brother.)
Here are 4 things I learned about brotherhood at a wedding:
1. Love lasts.
Distance, time and status have no affect on a love that runs this deep. He comes back humble, and he'll pick up right where he left off 5+ year ago. 
2. Love laughs.
There's no truer laugh than one that comes out of the gut of the guy who just reunited with his boys.
3. Love renews.
The time they spend with together is deeply restorative. It can truly transform the way they think of themselves, long after they've said "see you later".  
4. Love appreciates.
Time spent is always short, so when there's the opportunity to hang out, the appreciation they have for one another, and God's provision, are like no other. 
I don't really know why I feel compelled to share this with you, other than the fact that this is the type of friendship every young boy deserves to grow up with.
While we don't have any kids of our own yet (and no, I'm not pregnant), I am finally beginning to understand the power of prayer-- and there is little more important than the lives of those who come after us.
So, all jokes aside, let us come together and pray for the friendships of our young boys:
Lord God,
Abba, thank you for gifting us with the imaginative, wild and caring hearts of young boys. Thank you for protecting them and bringing them into this world, and please Lord, keep doing so. For the boys who are not in this world anymore, please breathe life into their legacy, and let their story on this earth bring a thousand people running into your Kingdom. 
Thank you Lord for being a God who does not abandon us. 
May our boys know Your Love.
May you put mentors in their path that are filled with integrity and compassion and courage. Teach them, Lord, to be brave. 
Father God, equip us as parents (or guardians) to teach patience + discernment, because finding the right friends are hard to come by in this world, and easily mistaken.
When they finally meet, let these boys be like iron sharpening iron, strengthening one another in love, in spite of every pressure to break. Let them be an encouragement to one another, let them challenge each other, question one another, and fight for one another's integrity. Give them the opportunity (and the heart) to support one another always, despite the distance that may separate them.
Lord God, let our boys be brave. 
Above all, 
Let Your will be done. 
Amen. 
Brotherhood not really the kind of love
you wanna talk about?
That's okay, I got you.
Head over to my next post
as I share some advice
I learned about the married kind-of-love.
>>>
[coming soon]
Thanks for reading! 
Let me know what you think in the comments below! Or come chat with me on Facebook, Instagram or email! 
With Love, 
Meliah Apa
​
Please reload
Let me know your comments below,
& stay connected by following AP on Facebook!